Racking damage and how to prevent serious accidents
Racking systems are vital for efficient warehouse storage and operations. Not only are they a big investment, they are also used extremely often every day. This makes them vulnerable to being hit by moving vehicles and pallets.
Minor damage might seem like a small risk initially, but left unmonitored and these little bends can worsen into serious damage.
Ignoring serious damage doesn't make the risk disappear. If left untreated, racking can buckle and collapse, causing a domino effect and knocking whole aisles of racking over.
So, what are the main causes of racking collapse?
Let's look at some of the most common reasons why racking collapses, plus tips on how to reduce the risk: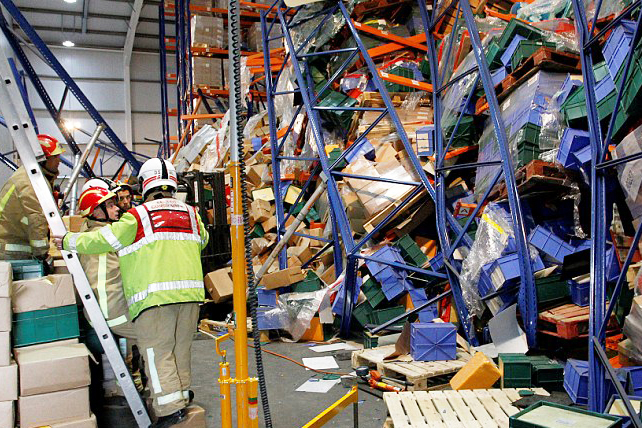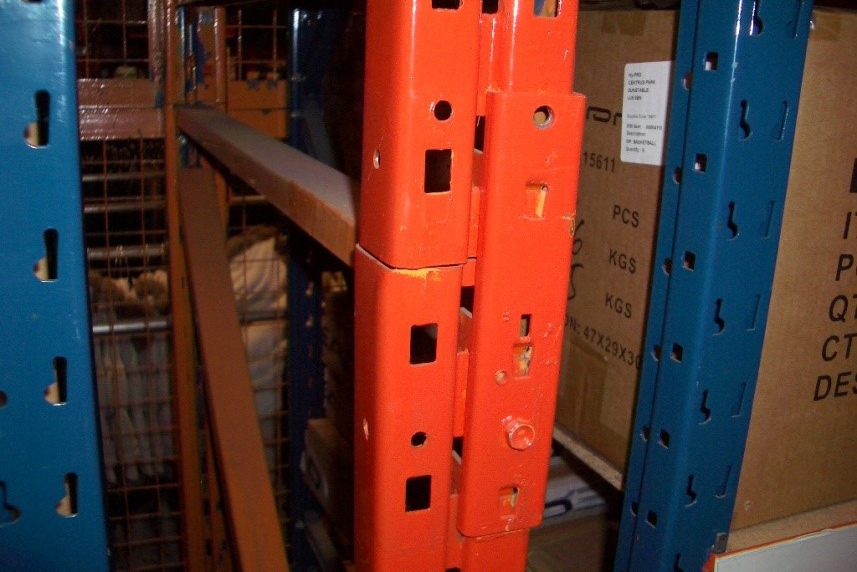 Racking incorrectly installed
Unqualified installers can build racking incorrectly, compromising its safety. Ensure you always use a qualified, experienced racking installation company that can guarantee installation to the manufacturers instructions.
Racking uprights should always be bolted to the floor using at least two fixings per base plate. Cutting corners won't save time or money long term. Not installing racking properly will likely lead to accidents and legal cases brought against the warehouse owner.
You should also make sure you're choosing the right type of racking for your products and operations. Courtesy of Dexion, we have a handy guide on how to choose warehouse racking.
Overloaded pallets and beams
Every beam of racking has a weight load limit. These limits should be clearly displayed for warehouse teams to see. They should also have training if needed to make sure they understand, and abide by, these limits.
It is a legal requirement to display Weight Load Notice Signs on every aisle of racking. Missing, damaged, or incorrect Weight Load Notice Signs will be identified during your annual racking safety inspection. These should be installed as quickly as possible to prevent possible accidents caused by incorrect loading of pallets and beams.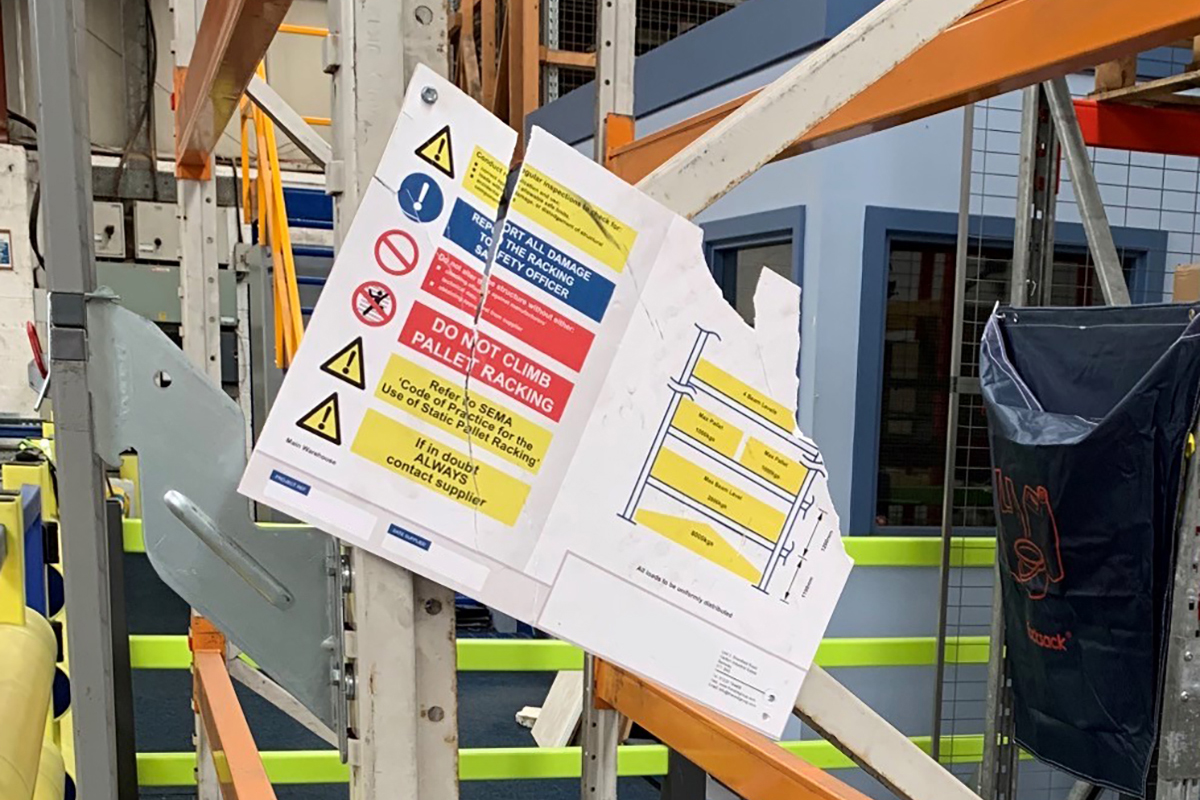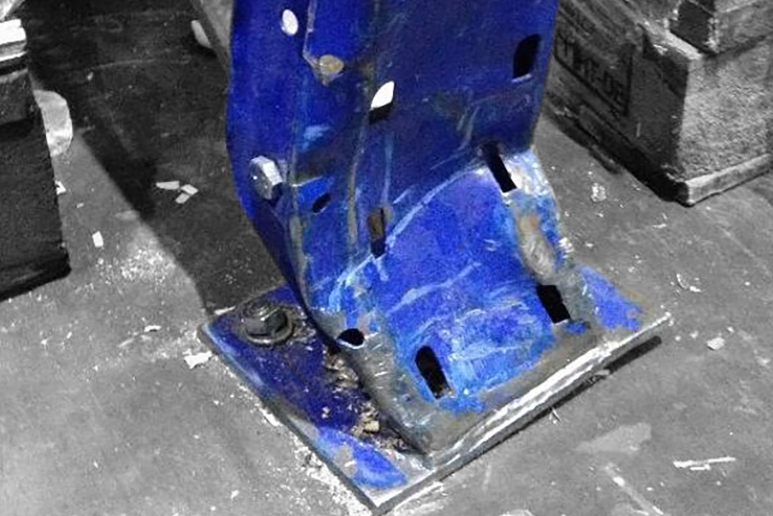 Impact from material handling equipment
MHE (Material Handling Equipment) frequently moves pallet and stock around the warehouse. Manoeuvring narrow aisles of racking with large, bulky and heavy pallets can often lead to bumps and scrapes with the racking uprights, beams and bracing.
Without barriers and guards, racking can be quite vulnerable to these types of collisions. This can lead to buckling and tears in the components, and ultimately racking collapse if left unrepaired.
Reduce this risk of racking collapse by installing racking protection barriers and guards. Check out our racking protection guide here.
Racking reconfigured and not re-inspected for safety
It's really common for warehouses to change their operations or alter capacity. One of the great benefits of using storage systems like pallet racking is that they can be reconfigured easily.
The risk here is that making any changes to racking beam levels can change the Weight Load Limit. If racking is altered without an experienced engineer, there is a danger that the Weight Load Notice Sign is not updated accordingly.
This can then lead to unsafe working loads of the beams, and potential danger of racking collapse. Ensure all racking is altered by a professional, the weight load limit is recalculated, and the Weight Load Notice Sign is updated to reflect the changes.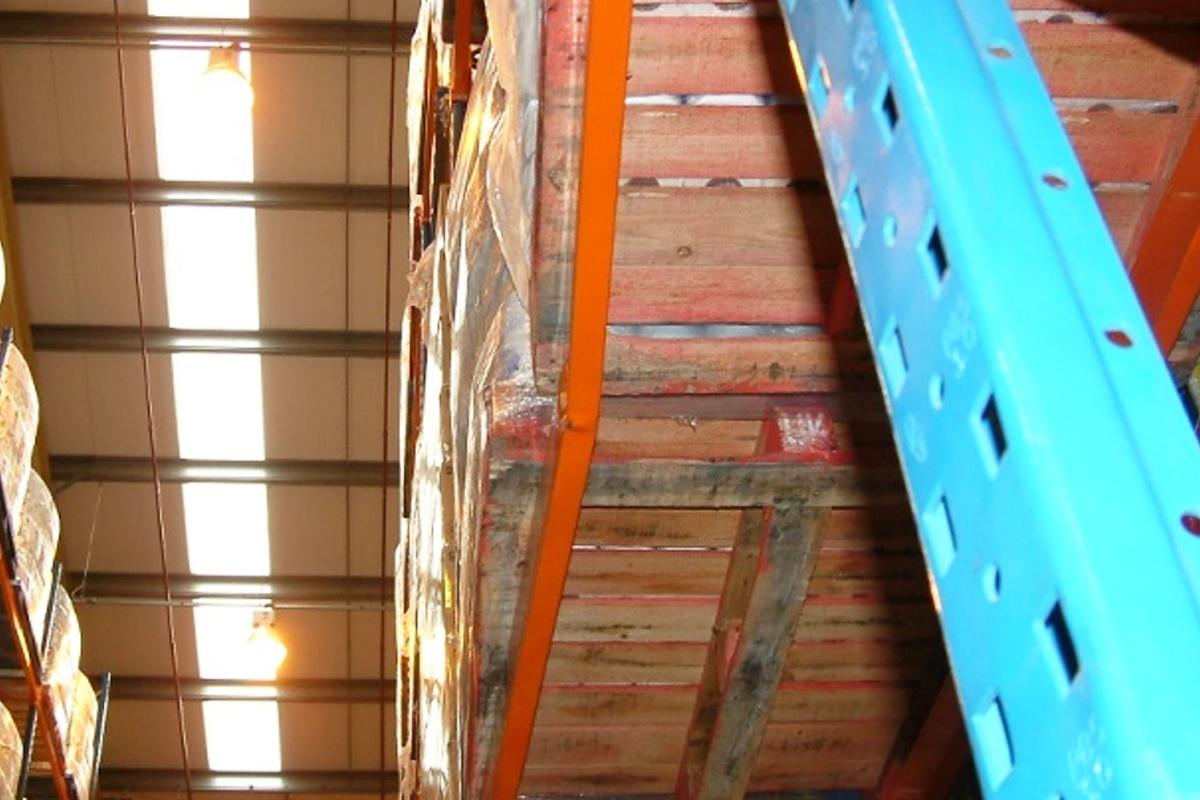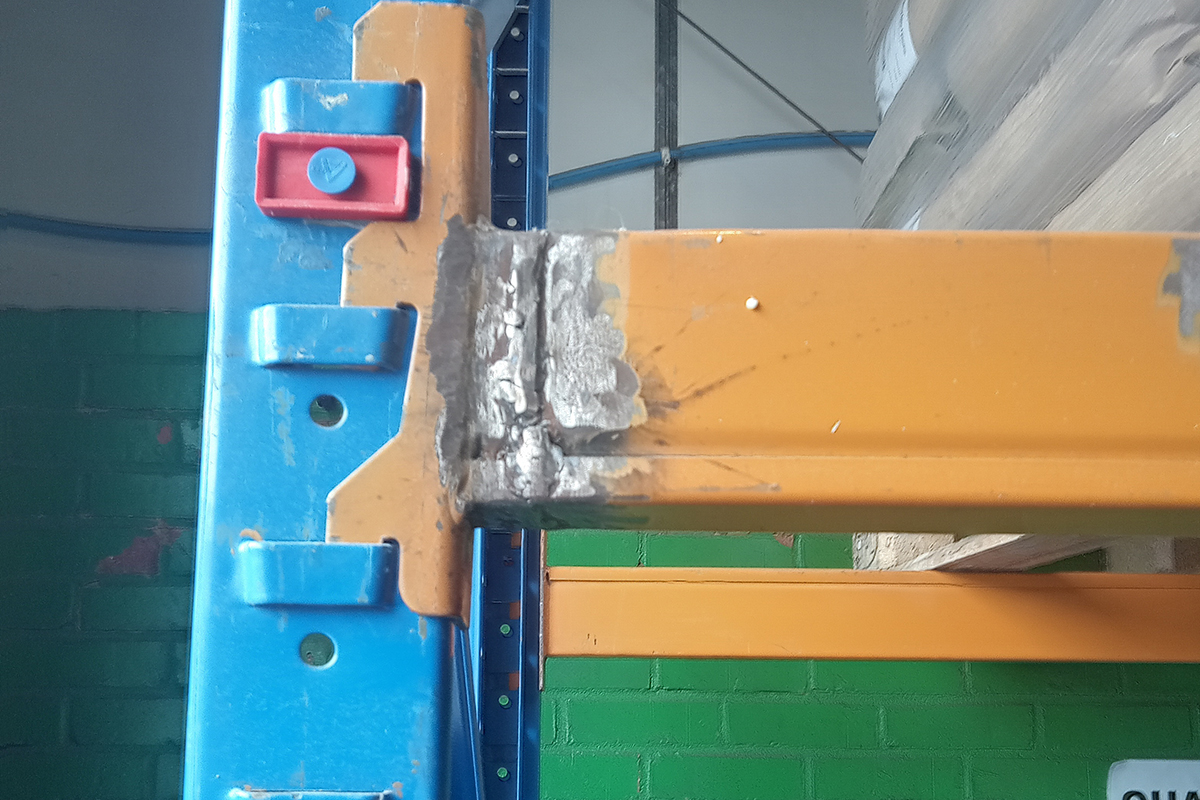 Racking components not repaired properly
Repairing racking using in house teams is not necessarily a danger to the racking itself, assuming the person has the relevant skills and training to do so.
Where the risk lies is when racking components are repaired by unskilled and untrained individuals. 'Repairing' torn components by welding patches over the damage is an example of risky repairs and can lead to serious damage.
Repairs are categorised by a traffic light system, created by SEMA. Your annual racking safety inspection will identify any damage, as well as which category they call under. Make sure you follow all guidance from your inspector to keep your warehouse operational and your team safe.
How can you minimise your risk of racking collapse?
Make sure you use qualified installation teams to install and alter any racking systems to the manufacturers instructions
Book a racking safety inspection at least once a year to capture issues and damage
Repair damage as soon as is required, according to the SEMA traffic light coded system
Ensure your teams have sufficient training to know what to look for and what actions to take if they spot an issue
Visit our Maintenance & Repairs page to browse more types of racking damage, and what steps you need to take next.
Recently had an inspection? Send us your report and we can quote your repair work.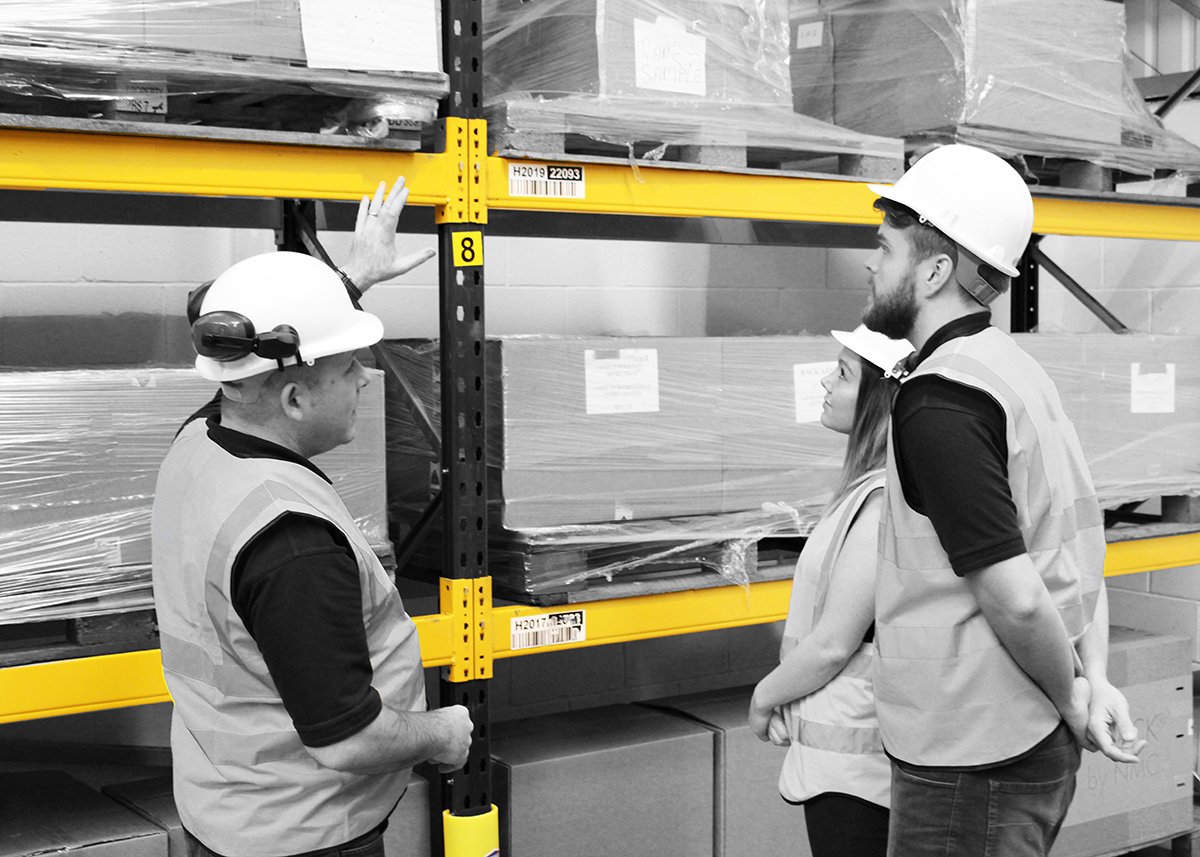 Speak to a member of the team today.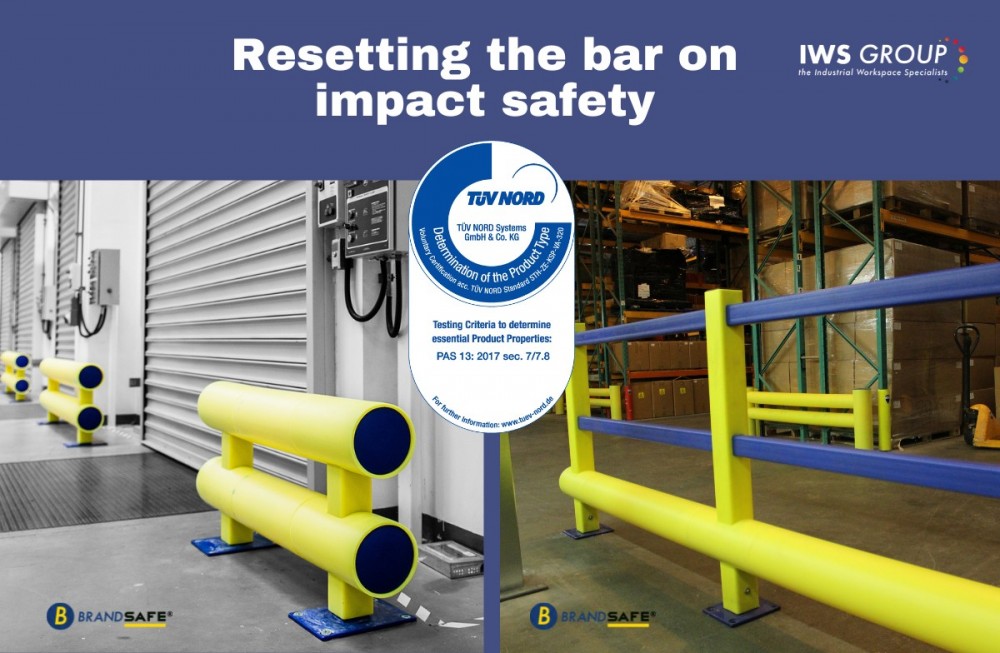 IWS Group,  has impact tested its Brandsafe® range of polymer safety barriers according to the rigorous PAS 13 code of practice, which has been third-party accredited by TÜV Nord, an internationally recognised seal of quality. The testing process measures the …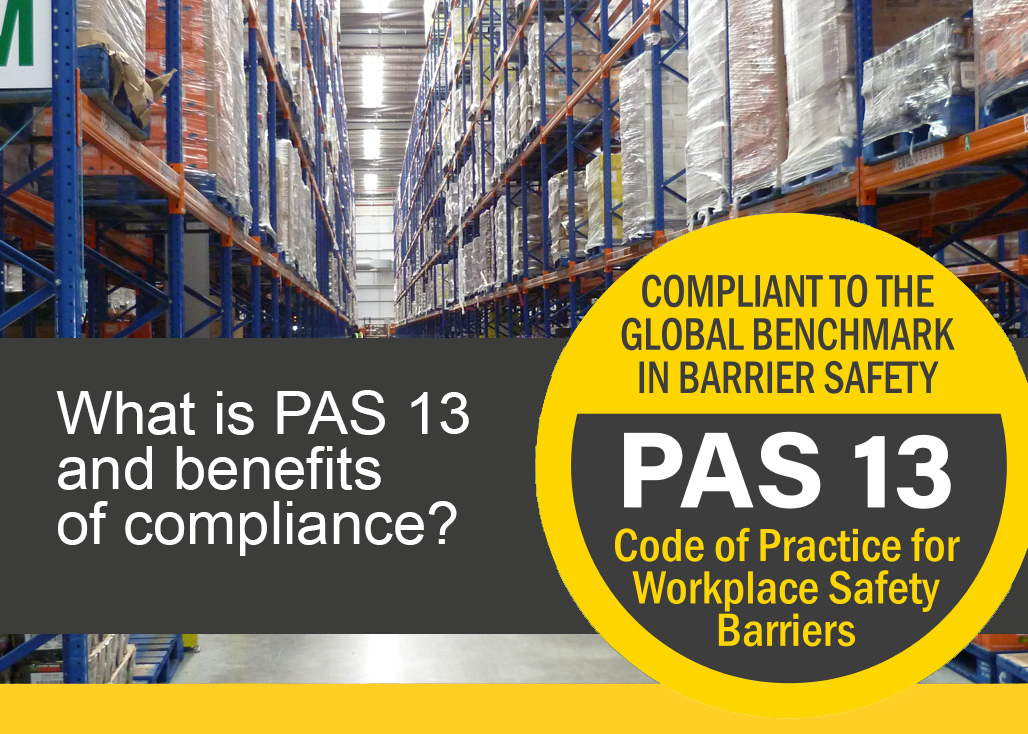 The official best practice for safety barriers and traffic management in industrial facilities, explained.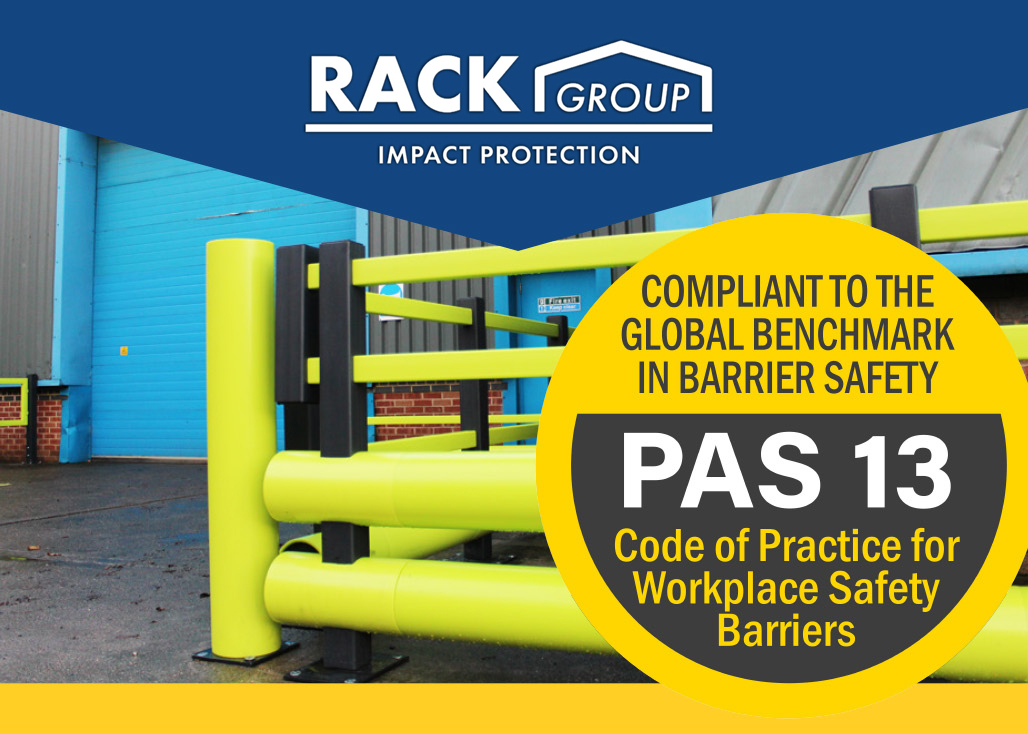 Rack Group and Brandsafe, have successfully impact tested their range of polymer safety barriers according to the PAS13 code of practice.