In a recent webinar, experts from across IWS Group of companies came together to shed light on the importance of safety barrier testing and how to make informed decisions when selecting them.
In particular, the significance of PAS 13 impact rating, choosing the right impact protection for your warehouse risks, and saving on repair and maintenance costs.
This article aims to summarize the key points discussed during the webinar and provide valuable insights for warehouse decision-makers, facilities managers, and health and safety professionals.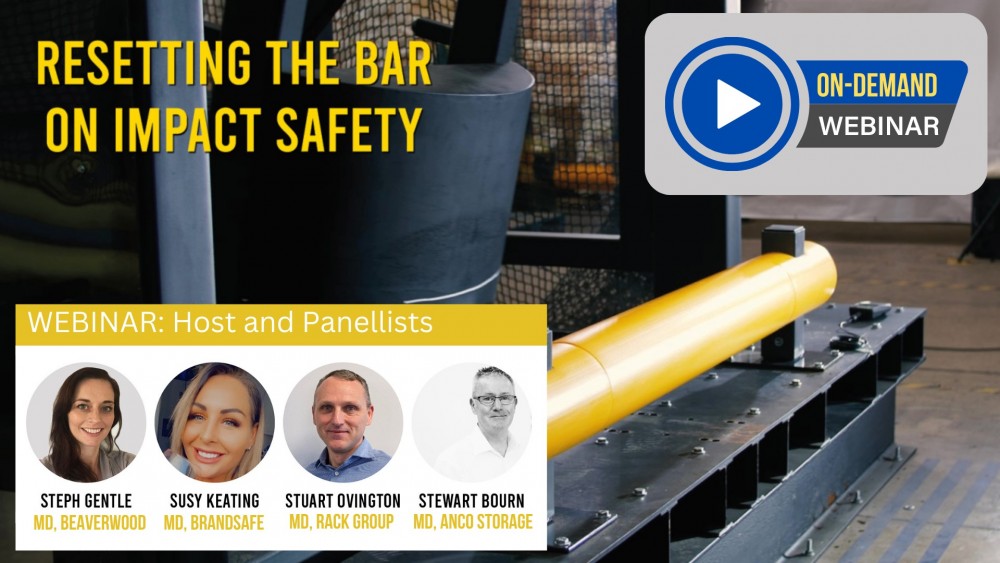 Understanding the Importance of PAS 13
PAS 13 is a globally recognised guidance, established by the British Standards Institutes (BSi) and the Health and Safety Executive (HSE). It serves as a benchmark for safety barriers used in industrial workplaces.
It was explained that the use the PAS 13 BSi guidance is the foundation for IWS Group product testing to benchmark and validate that their barriers comply with PAS 13. Also to further seek verification from an independent testing house, such as TÜV Nord.
PAS 13, testing covers both horizontal barriers and vertical posts, to be impact tested ensuring comprehensive compliance. Testing involves impacting the barriers and measuring their deflection and force transfer. By adhering to PAS 13 standards, customers can have confidence in the reliability and quality of the safety barriers they choose.
Choosing the right impact protection for your specific warehouse risk
Safety barriers play a crucial role in protecting people, property, and stock in warehouse environments. However, it was raised that navigating the market and choosing the right safety barrier system can be a daunting task. It was agreed that when selecting safety barriers, decision-makers must thoroughly understand their warehouse environment and the areas that need protection. This includes identifying walkways, stock zones, and deflection zones. Deflection zones are essential for ensuring the safety of individuals by accounting for the distance a barrier will deflect upon impact. Different manufacturers offer varying deflection zones based on factors such as forklift types, speeds, and loads. Comparing barrier test data is key, but that can be challenging as many are not comparable, due to either not testing to PAS 13 and are not third party accredited. Consulting with experts and asking the right questions is crucial in determining the most suitable solution for a specific warehouse.
Simplifying Testing Data
Understanding testing data can also be challenging, especially when it involves complex terms like energy and kilojoules. To address this issue, the webinar participants introduced a simplified approach called "Safety Simplified." This approach provides customers with straightforward information about the energy levels their products can withstand in real world terms. By customers knowing the maximum loads and speeds of their forklifts, they can easily interpret the performance of safety barriers to identify which best meet their needs.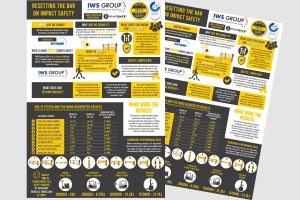 Download the "Safety Simplified" infographic to clearly show barrier performance in real world situations.
Avoiding the Cost of Over-Engineering and Underperformance
The webinar addressed the common challenges faced by customers in the market when selecting safety barrier systems. The marketplace offers a wide range of safety barrier systems with varying prices and performance levels. It is important to avoid "over-engineered" products, as different environments require different specifications. For example, an airport can require far higher specification and performance of barriers in comparison to inside a warehouse. Also purchasing low cost, untested products may result in frequent replacements and compromised safety. Therefore it is crucial to invest in safety barriers that match the specific needs of a workplace.
Availability and Lead Times
Lead times can significantly impact the development timetable of a warehouse either from construction or ongoing risk management of an existing workplace. It was stressed to check lead times before purchasing which can often vary between weeks and many months and to plan this detail into your risk management strategy and planning.
The panelists reassured the audience that tested safety barrier products from Brandsafe have an average lead time of four weeks. As a UK manufacturer, Brandsafe has invested in its manufacturing process to meet customer requirements efficiently with warehouses in the UK, Central Europe and the USA for rapid response and worldwide product availability.
Saving on repair and maintenance costs
All the panelists agreed that choosing the right safety barrier system for a warehouse requires careful consideration of factors such as budget, durability and risk. It was also made clear that choosing polymer barriers over metal had several benefits.
The flexible barrier design and polymer material are engineered to absorb the load of impact, away from a vehicle and ground fixings to reduce damage and repair time, unlike metal barriers.
The benefits from such a design means customers will lower their repairs and maintenance cost compared to metal barriers and reduce vehicle impact damage and downtime. Maintenance is further lowered as these polymer barriers don't rust, corrode, fade or require re-painting, and only need replacing after frequent, major impacts have occurred. They are also non-toxic and suitable for use in food production and freezer environments.
It was stressed that budget constraints can force compromises on durability and longevity. However, with the Brandsafe range of products, customers can find the perfect balance between cost-effectiveness and meeting their specific needs.
Key Considerations for Decision Makers
It was wrapped up with advice for decision makers, including facility managers, health and safety managers, and distributors, to assess their environment, determine what needs protection (people, property, and stock), map out walkways, vehicle flow and stock zones, and consider deflection zones. Then review PAS 13 tested and third party accredited barrier products to be confident your risk assessment is best supported by products you can trust.
A final point raised was sustainability is also a critical consideration to ensure long-term viability. Brandsafe barrier range not only offer 100% recyclability but also provide replacement parts, allowing for easy maintenance and extended product lifespan.
For more information view our range of products or contact us for advice or a quote.
📞 0044 1226 78 44 88
📧 info@therackgroup.com
Become a Distributor
The webinar highlighted the benefits for distributors who deal with safety barriers as part of their portfolio or wish to add them. Companies were invited to join as a distributor or reseller of Brandsafe barriers to help their customers create a safe and productive workplace.
For more information visit our distributor page.